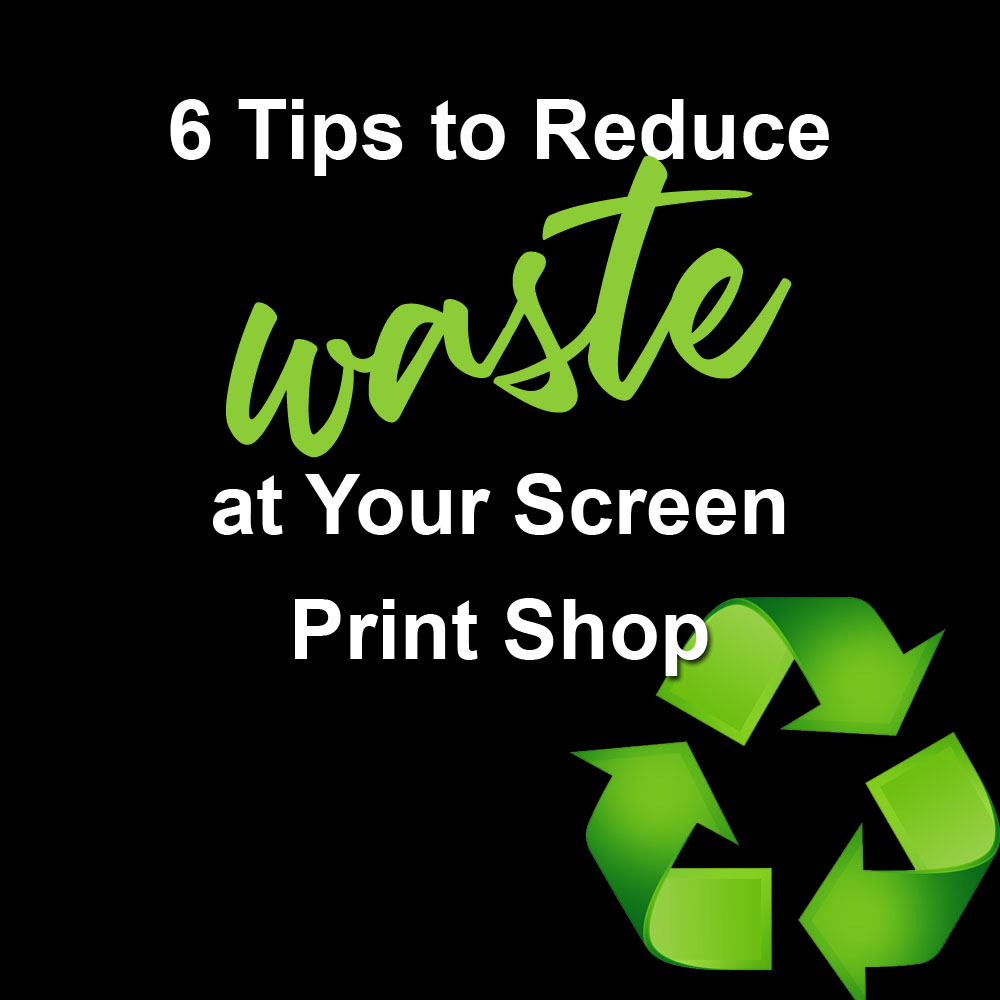 Reducing your waste will help you run an efficient screen print shop. Waste is generated from misprints, ink, boxes, and many other containers. How do you get it all under control? Simple. Not only can you reuse and recycle garments, but you can reduce wasted ink and supplies.
GARMENTS.
Reuse. Reuse misprinted garments by using them for test printing. Especially if it is the same type of garment for future jobs. When running out of space for printing, you can cut up the material and use it for rags to help clean.

Donate. If your misprinted garments are still in good shape, you can help others by donating the item. Shelters are always happy to accept garments in good condition. Prior to donating check with your customer, as it might contain their artwork and logo.

Recycle. There are recycling programs that find ways to repurpose almost any item regardless of its condition. Make sure that these garments do not contain harmful chemicals. There are drop off locations in every city.
INK AND SUPPLIES.
Fusion 180 Ink. Fusion 180 ink adds miraculous Bio Base to entire ink system. Bio Base makes the ink

biodegradable

and soft, improving viscosity. Fusion 180 ink with Bio Base remains low cure stays soft longer and flows beautifully through fine meshes without sacrificing coverage. Lowering the temperature of your dryer will not only save energy, but will also reduce energy costs and emissions. In addition, your production will increase and employees will love the cooler shop during the summer months.

Recycle. Recycling and disposing ink and supplies properly is essential. Empty boxes and containers can be reused. Purchase film positives, cleaning supplies, and ink in bulk so that fewer shipments arrive. This will also mean your shop will contain fewer empty boxes. Film can be recycled for jobs that are not repeated often.

Limit. In order to avoid wasting ink only make and prepare exactly the amount that you need to utilize for your order. A color matching system combined with an accurate scale and a reliable ink mixer can help you reduce waste. These systems are affordable and can save you money. At Fusion 180° ink we have a pigment based system. Please visit here are interested. Fusion 180° ink will not expire because you do not need to print with a catalyst. Our ink can also be stored at room temperature maximizing the inks shelf life. Don't overuse pallet adhesives, emulsion, screen cleaners, and degreasers. This will only waste supplies and money.The more supplies you can save the more you will save money.

Dispose. In occasion, you still have to dispose of some leftover ink. Comply with local, state, and federal disposing laws. Dispose leftover supplies that contain toxic chemicals in the chemical waste disposer.
Help reduce your shops environmental impact and financial responsibilities through recycling, reusing, donating, and disposing ink, garments, and supplies. There are plenty of steps you can take to help make a change.
Do you want more tips on how to become a more eco-friendly shop?