Top 10 Products to Add to Your Screen Print Shop
Our store is a one-stop shop for all of your screen printing needs. You can find everything from custom ink colors to inkjet media film or tape. Below are the top 10 products to add to your screen print shop!
We highly recommend adding the start-up kit to your collection because you can mix ANY custom color yourself. All custom colors have 90% base and 10% pigment. We send you an Excel file with formulas. The start-up kit comes with 15 pigment-based colors, 5 gallons of base, and a gallon of reducer.
#2: Tape
Split Tape-
Our split tape comes in three sizes: 2″ wide, 3″ wide, or 4″ wide. The tape peels off easily from the screen without damaging photo emulsion and does not leave residue on the screen.
Packing Tape-
Our high-quality packing tape comes in either

clear
or
tan
colors and will hold the package closed with one application.
Screen Tape-
Our white screen tape has natural rubber adhesive providing a long shelf life.
White Cloth Tape-
#3: Powder-
Our thermoplastic polyurethane hot melting transfer powder helps plastisol bond onto cotton, nylon, acetate rayon, polyester, PVC, and finely woven synthetics.
#4: Film-
Our high-quality waterproof inkjet media film is used for your screens and is competitively priced.
#5: Ink Cleaner-
You may no longer need ink cleaners made with petrochemicals such as blended solvents. To clean the ink you need our
INK CLEANER.
#6: Ink-
Solutions to your screen printing problems are here with low-cure biodegradable ink!!! The ink cures at 260°F through the dryer or with a flash depending on the ink deposit and the type of garment you are printing on.
Facts About Our Ink:
-Biodegradable
-Excellent Opacity and Coverage
-No Catalyst Needed
-Works on All Fabrics- The low cure temperature allows you to print on any fabric, including heat-sensitive materials: polyester, soft vinyl material substrate acrylic, polypropylene, non-woven, artificial leather, nylon (polyamide), as well as 100% cotton and 50% polyester /50% cotton.
-Cure with a Flash or at a Low Temperature
Metallic-

Our gold or silver metallic ink has a shiny and bright print. We recommend using 86-158 mesh and curing at 260°F through the dryer.
Shimmer-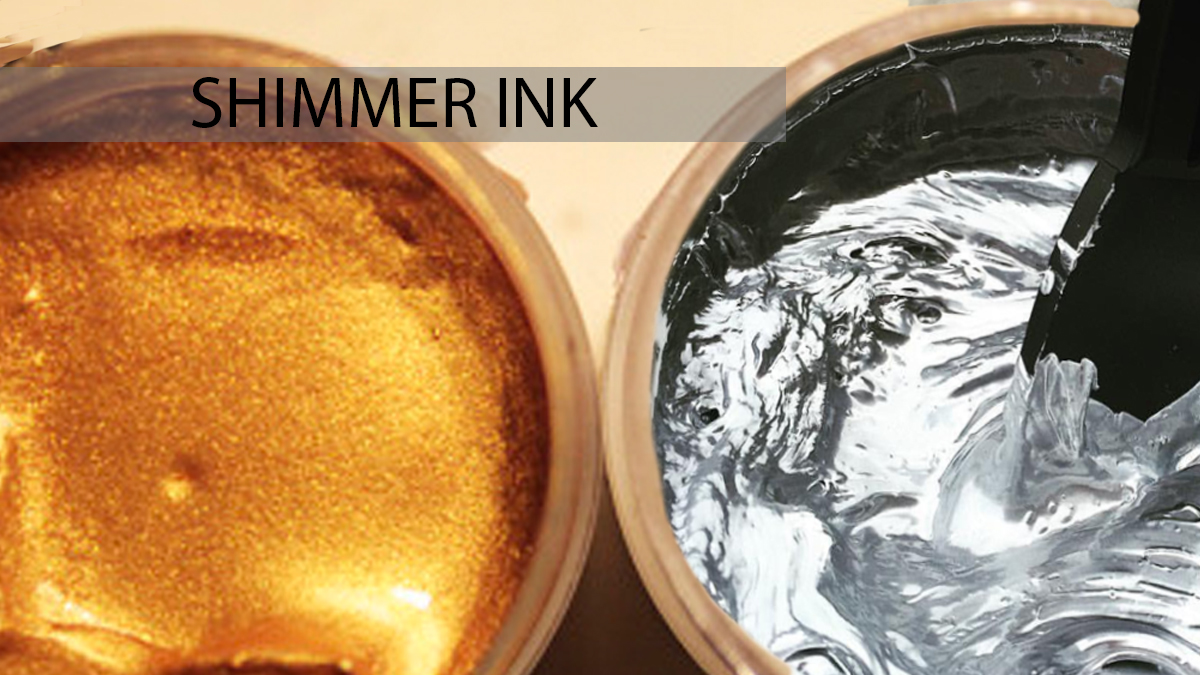 Our gold or silver shimmer ink has a sparkle effect. Shimmer ink has smaller particles than Metallic. We recommend using 86 mesh and curing at 260°F through the dryer.
Glow in the Dark-
Our glow in the dark ink will add value to your screen print shop! Phosphors, charged in ultra-violet light or sunlight, glows when the lights turn off. We recommend using up to 200 mesh, curing at 260°F through the dryer.
Fluorescent
Our fluorescent inks are beautiful and bright colors.
Puff Agent-
A puff agent adds texture and depth to the print. A puff base mixes with the Fusion 180° ink. The result is an ink that raises to create a 3D, elevated look. The puff base of puff ink can lighten the plastisol color you plan to use. We recommend using 110 mesh, curing at 260°F to 280°F through the dryer.
#8: Reducer-
Low cure ink can bind up in the screen when the pallet is too hot, if you leave the ink in the screen overnight, or if the screen was recently flashed. In order to clear the screen, you need to spray the reducer into the affected area, flood the screen with ink, and push the ink through the screen with a squeegee onto the test print until the area is cleared. You might also have to add the reducer to the ink.
#9: Custom Color-
You might need a color not in your stock collection at your screen print shop. We recommend getting the start-up kit; however, if you need a color as soon as possible, we can mix a CUSTOM color at a gallon. Please send us the custom color number!
#10: Four-Color Process Colors-
Four-color process screen printing is a color separation system where the image is separated by four colors: cyan, magenta, yellow, and black. These four colors form a photo-realistic print reproducing the original color image. Screen printers can achieve this with halftone dots to create the final look. The artwork is developed digitally with the software used for CMYK screen printing. Four color process is widely used in the screen printing industry because it is cost-effective. Surprise your customers with a beautiful photo-realistic print using the four-color process system with our inks!