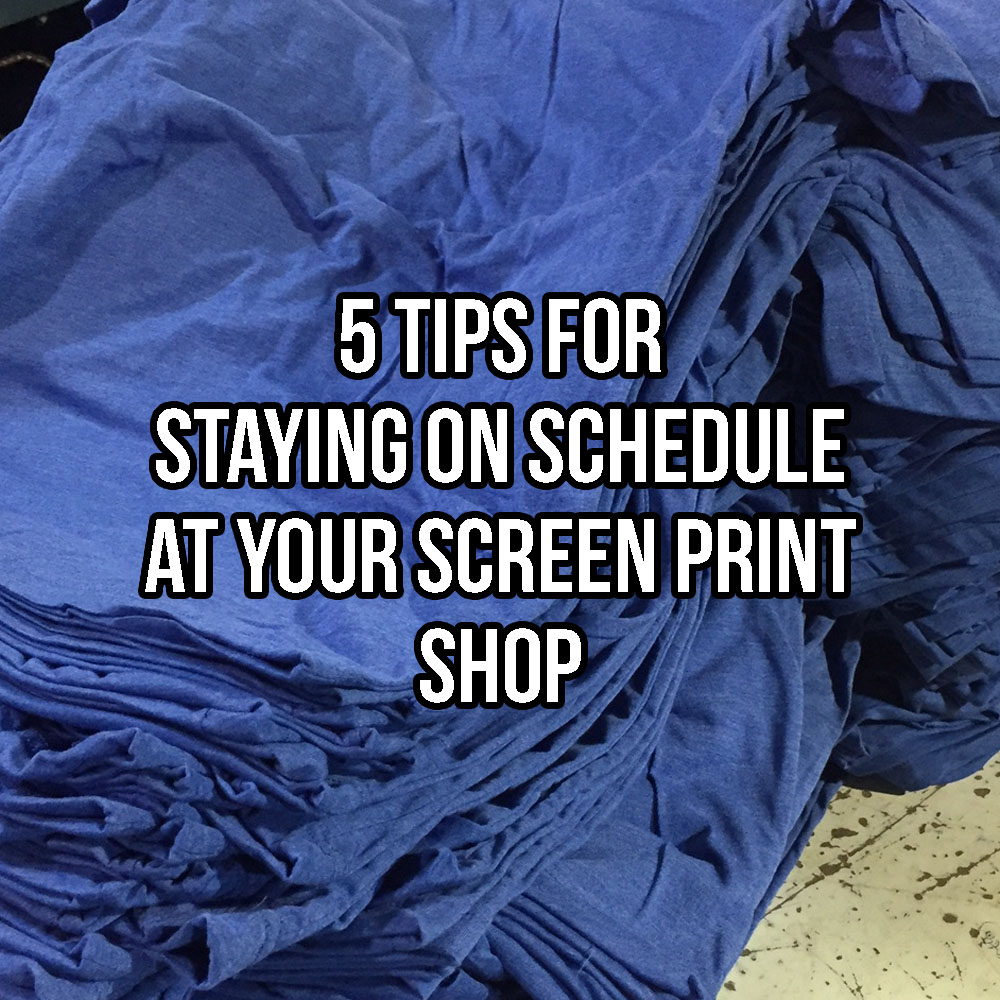 Customers want their orders completed on time and looking amazing. In order to keep customers satisfied meeting deadlines is essential. At any busy shop stress can takeover and finishing orders on schedule may become overwhelming. These tips will help keep your business on the right track.
Be Honest.

Knowing your business's production capabilities and understanding your equipment and its limitations are important. Accept orders that your company can realistically complete and finish on time. Do not promise anything that your company cannot handle.

Prepare a Checklist.

A checklist will give you a better idea of what resources you will need in order to fulfill a specific job. (EX: What you will be printing, what you will be printing on, what supplies you will need, which employees will be involved, etc.) Have inventory of supplies necessary to complete orders on time and efficiently. It can be impractical to stock a large amount of supplies, especially if you are a small shop. In this case, find a local, reliable, and trustworthy supplier who can fulfill orders fast.

Stay Organized.

Keep track of your orders in a place that is visible to everyone. This will give your employees an idea of what needs to be completed and when it needs to be shipped and in the hands of the customer. Every employee should know exactly what is expected of them and understand their specific role to help the company succeed. Organize equipment for maximum efficiency. For example, do not tie up your automatic press for a small order if you have a manual press available.

Document Production.

It can be difficult to make a schedule due to the fact that no two jobs are identical. However, an accurate schedule can be put into place if you document every job and understand how long different jobs will take based on previous orders. When a similar or repeat order is placed, you can reference the steps you took the first time around and how long that took. This will give you an accurate idea of how to schedule orders.

Communication.

Communication is key to success in any business. Always communicate with customers every step of the way. Being honest and letting them know exactly how far along your company is with completing the order is essential. Keeping your customers satisfied is possible with communication, even when things do not go as planned.
Creating an accurate schedule to follow can be possible by following these tips. However, you're only human and mistakes can happen. Sometimes tragedies will keep you from filling an order by a specific date. Communication is key.