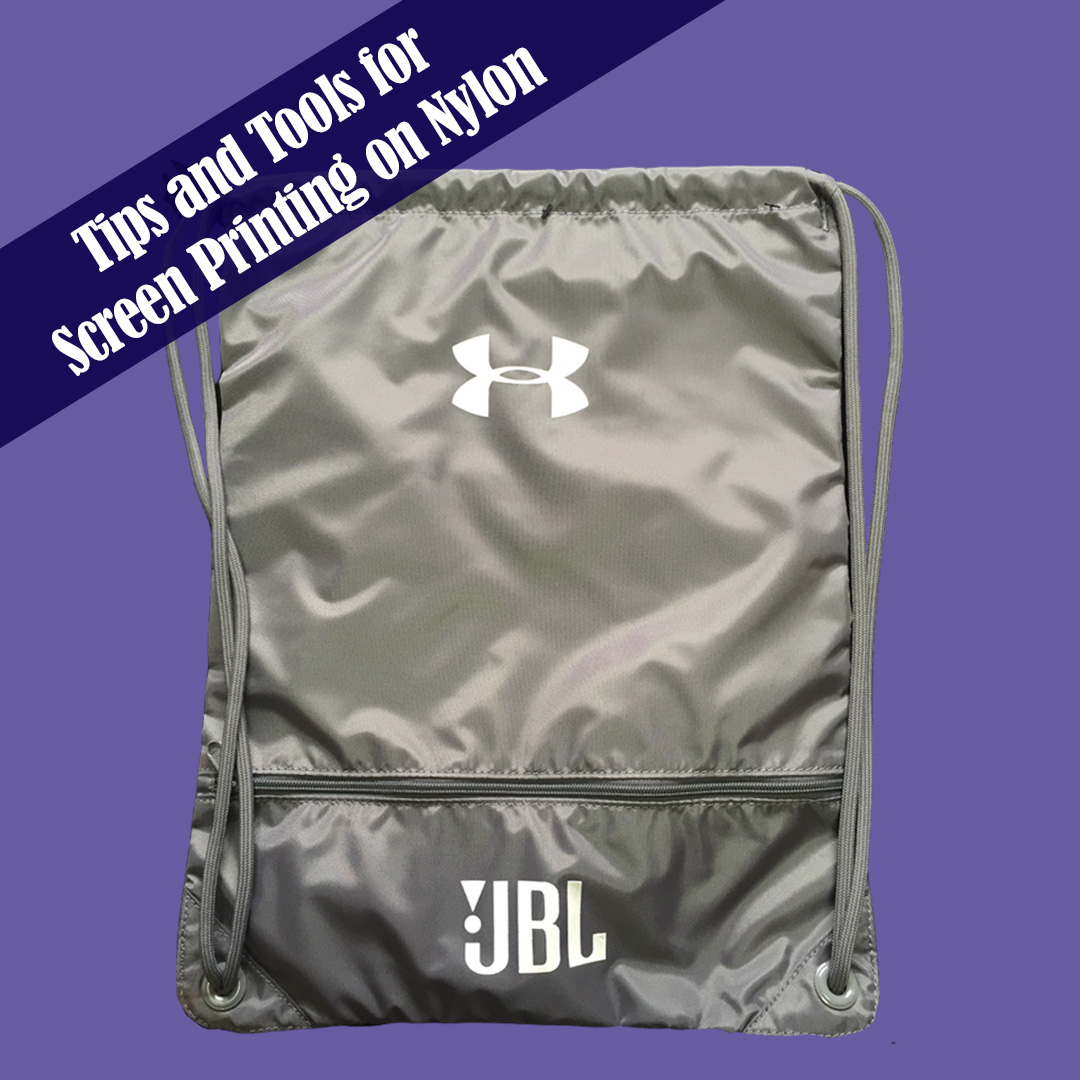 Background:
Screen printers tend to run into problems when printing on Nylon, however there are ways to overcome these challenges. Especially with our new, innovative ink.
Types of Nylon
Nylon items include: jackets, banners, tote bags, brief cases, luggage, sports bras, and umbrellas. Each nylon fabric is made out of different weaves that have many uses. Three types of Nylon Weaves are listed here:
Oxford Nylon: A thicker deposit of ink is required for this heavy-basket weave. This weave contains double rows of fiber that pass over and under one another. The fabric has a rough texture and is used for bags, luggage, jackets, etc.

Satin Nylon: This irregular weave has fiber materials that pass over four fibers, then under one fiber. Satin Nylon is mostly used for jackets and has a smooth finish.

Taffeta Nylon- Taffeta Nylon has a dense weave where fibers are woven together. The smooth fabric allows for precise screen prints.
The Problem.
Printing on Nylon causes problems for every screen printer. Regular plastisol ink will sit on top of the fabric versus bonding with the fabric when printed at a low temperature. Regular plastisol ink bonds to fabric fibers when the temperature of the ink reaches 325 degrees Fahrenheit. This high temperature shrinks the nylon fabric. This is also because nylon material tends to be woven rather than knit. Although these problems exist, they can be solved with proper tools. When using the correct items and following the proper technique you can learn to screen print on Nylon. You will amaze your customers by providing a crisp and clear print on Nylon fabric.
The Solution.
There are a few specialty items out there that can help solve the problem. Specialty ink, Jacket hold-down, retensionable screen, and sharp squeegee are items that will enable you to print on Nylon.
Fusion 180° Ink. Our plastisol-based ink is designed to print on Nylon. As I stated previously, regular plastisol ink bonds to fabric fibers when the temperature of the ink reaches 325 degrees Fahrenheit. This temperature melts nylon. With Fusion 180° ink the cure temperature is 240°F. The lower temperature allows the ink to bond to the material without melting the fabric. You will no longer need a catalyst, have to pre-heat the fabric prior to printing, wait 72 hours after the item was printed for the ink to be cured, or worry if the fabric will melt.

Hold-down.The jacket-hold-down will hold the nylon fabric in place. Nylon tends to have a smooth finish causing difficulties for the material to stay in place during the screen-printing process. This is especially true if a jacket contains a liner. Jacket Hold Down will prevent shifting and hold the fabric down securely.

A Sharp Squeegee.Squeegee must have a sharp, straight level edge. We recommend using a 70 or 80 single durometer squeegee.
Tips for Screen Printing on Nylon
Set Up. Off-contract distance should be 1/16" to 1/8". Flatten the nylon surface prior to printing, as the material tends to be quite wrinkly. This will guarantee that wrinkles will not become a part of your print.

Due to the fact that Nylon shifts easily, you have only one chance to lay down the fabric on the pallet for a good print.

Cure at a lower temperature. Nylon can shrink when the material is subjected to high temperatures. Our ink will allow you to cure the fabric at 240°F for 40 seconds through the dryer. You will not need a catalyst when using our ink nor will you have to wait 72 hours after curing. You will also be able to print nylon products that are waterproof. Use one stroke and do not cure with the flash.

Cleaning. You will need to clean screens and squeegees immediately after printing. Our low temperature ink can dry out quickly so you will want to clean the ink out of all of your equipment as soon as your press run is complete.

Test. Practice makes perfect. Make sure that you run a test print prior to completing the entire order.

Relevant Blog Posts: